Careers at United Lens Company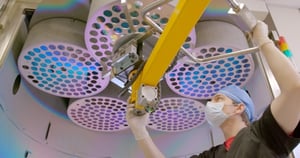 United Lens Company (ULC) has a long tradition of service to the optical industry, and our commitment is ongoing to the industry, our customers and our employees.

The technical resources of any company or organization are only as good as the people who use them. Every employee at United Lens brings a valuable talent to our organization. And every employee shares our commitment to meeting our customers' needs.

We strongly believe that the quality of our employees and overall company culture is in direct correlation to being able to provide remarkable products and services to every United Lens customer.

Since our founding in 1916 by Italian immigrant Fileno DiGregorio, ULC has been under the same continuous family ownership, and in becoming a ULC employee, you truly become an extension of our family. From day one, Fileno instilled a culture of helping your fellow man throughout every aspect of his personal and professional life, believing that if everyone made the effort to help each other whenever possible, it would result in the mutual betterment of everyone and everything. He trusted in people to communally make a difference, pay it forward and dedicated his efforts to empowering them to thrive.

A career at ULC means being part of a team that strives for quality and excellence through stimulating collaboration where creativity and determination result in a fun and successful organization. A team that values flexibility, communication, good judgement and purpose, combined with endless curiosity and above all integrity. A team that is taken care of like family and rewarded for exuding these specific behaviors and skills in which we value most.

As a company we believe in making decisions based on the long term continual benefits, not the near term, constantly pushing to always go beyond treating the symptoms with a quick fix band aid.

Aligning with this concept, ULC offers a comprehensive benefits program for all employees, and we are continuously working to improve on the flexibility of our offerings as new options become available.

Our current benefits program includes substantial medical, dental, vision and prescription options, as well as multi-tiered vacation levels. Additional long term benefits also include a 401k plan, profit sharing options, short and long term disability, as well as life insurance. We believe in planning for the future while remembering to live in the now.
If this sounds like a team you would be happy and motivated to become a part of, apply today to join our family and grow your career!
There is more to the United Lens story that you can become a part of when embarking on a career with us.
There is passion and purpose behind our drive for success, read about it on our About ULC page. We take pride in bettering both the physical and professional communities we have established our business in. Check out the benefits of our surrounding area and learn more about the community outreach and go green efforts we take part in here.
Hear What it's Like to Work at United Lens Company.
"I have been a part of the ULC team for more than 30 years, and throughout that time, have seen the company grow and change in positive ways. My interactions with the people I work with, as well as our customers, has been of great benefit to me, enabling for job and personal growth in a supportive and productive environment." -Sharon Gardner
"ULC is a great place to build a career, especially where 30+ year personnel exists. I started as an office clerk years ago and have been given many opportunities to grow throughout the company. I have been able to utilize my years of knowledge into my current role. This would not have happened if I had not been given the support by ULC and the extensive training that they have been more than willing to provide in order for me to succeed. I highly recommend ULC for anyone who is willing to work hard, as ULC is more than willing to invest in their employees." -Tanya Lamprey
"I've worked for United Lens for over 33 years. There is excellent opportunity for career growth. I've been treated like family. Anyone who is reliable and has good work ethic can make a great career for themselves here. I'm proud to be part of the UL team!" -David Proulx